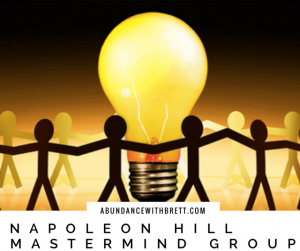 "THIS MASTERMIND GROUP ABSOLUTELY CHANGED MY LIFE" – Brett Hudson
Monday – Friday @ 9am EST Dial: (712) – 432-0900 PIN: 565762#
(24 HOUR RECORDED CALL) 712-432-0990 Access Code: 565762#
CHANGE YOUR MINDSET… CHANGE YOUR LIFE…
A HUGE part of the success puzzle is having a Success Based Mindset.
This mastermind group call was absolutely instrumental in changing my mindset to a Prosperity Consciousness.
This is the "KEY" to you hitting the Next Level in record time!
Make This Your Best Year!
Always be learning, growing and working on YOU by feeding your mind with information and material that forces you to think bigger, get uncomfortable, and develop your unlimited potential prosperity mindset.
God Bless

Brett Hudson <<== connect with me on Facebook 😉
561-705-3308<<== text or call me 🙂
PS: If you're interested in what my leadership team and I are doing to create FREEDOM in our LIVES go here